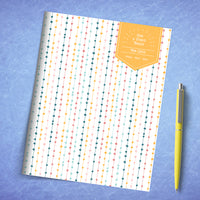 You are on your way to a healthier life with our Food + Fitness Planners.
Be more accountable - track those workouts and meals to maintain or work towards a better you! This simple yet effective tool is here to help you tackle your eating and exercise goals.
• Easily track meals, workouts/activity, goals - you are on your way to a healthier
   new year!
• 52 weeks (open-dated)
• Daily water tracker
• Daily meal plan + fitness activity
• Slim and portable - can even take to the gym!
• Weekly motivational quotes to keep you on track
• Weekly goals and rewards
• Textured, durable cover material