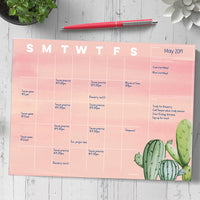 • 12 months
• 12 x 9
• Drill hole for hanging option
• Packaged in a poly bag
Prickly, green cactus accenting soft pink pages make this open-dated mini desk pad calendar a statement piece! The monthly tear-off, non-dated pages are labeled with the days of the week, boast large, monthly grid space for appointments, to-dos and reminders. All you need to do is customize it and write your dates in as you need! Twelve, soft pink monthly pages with prickly green cactus on high quality, thick paper allows for smooth writing and easy erasing as plans often change. This 12" x 9" desk calendar can either lay flat on a desk or hang on the wall by the drilled hole. Comes packaged in a poly bag.
Customize your scheduling needs and begin planning whatever month fits your life!  Great size for your home or office desk or hang on the wall. Ample grid space provides plenty of writing room and visibility to track your schedule, note appointments and list to-dos or reminders. The thick, premium paper allows for smooth writing and easy erasing. So get to planning your way!
TF Publishing is deeply committed to reducing the production of waste and our impact on the earth. Our eco-conscious efforts both small and great include: our team's dedication to recycling and composting at work, a wind turbine powering our corporate office, and the removal of plastic from most of our products. We want consumers to know these practices are so important to us, we've adopted the mantra: Goods Without Guilt.