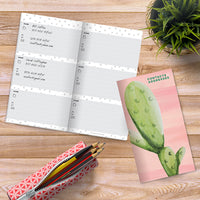 Never forget pertinent information for your favorite contacts in this pink, prickly cactus address book! This 60-page, lined book has dedicated spots to write contact names, phone numbers, addresses, including email, and a few bonus lines to write key information, like their birthdate, you'll never want to forget about each person or business. This 3.5" x 6.5" address book has durable and textured covers, is fashionable, functional and easily goes anywhere in a handbag or briefcase! 
Never search or ask countless times for key information from your close contacts with our new address book!  Sixty lined pages of segmented sections for Contact Name, Phone Numbers, Home and Email Address and Notes right at your fingertips. Made with durable, premium textured covers, the compact checkbook size fits in your purse, briefcase or backpack.
TF Publishing is deeply committed to reducing the production of waste and our impact on the earth. Our eco-conscious efforts both small and great include: our team's dedication to recycling and composting at work, a wind turbine powering our corporate office, and the removal of plastic from most of our products. We want consumers to know these practices are so important to us, we've adopted the mantra: Goods Without Guilt.